As your loved one ages, many will eventually consider moving them to assisted living communities. Whether for better access to medical care or more active social lives, assisted living communities offer a lot to seniors who need additional support.
However, you'll likely need to downsize before moving to an assisted living community.
Downsizing can feel like a daunting task, especially when you're trying to go through decades of possessions, but by planning ahead and being gentle with your loved one, you can make a successful move with minimal stress.
How to Discuss Downsizing with Your Loved One
Downsizing can be a sensitive topic, especially involving a loved one. It can be challenging to start the conversation, as it can be viewed as a sign of aging. However, downsizing can provide numerous benefits, such as reduced expenses, improved safety, and a simplified lifestyle.
It is crucial to approach this topic with care, empathy, and understanding, as it can be an emotional process for your loved one.
Start the Conversation Early
It is essential to introduce downsizing as an option for your loved one earlier rather than waiting until it becomes necessary. If your loved one is still mobile and healthy, consider downsizing as a proactive step to simplify their lifestyle. Discussing the benefits of downsizing, such as less maintenance, can be a good starting point.
Address Concerns
It is natural for your loved one to feel overwhelmed, sad, and even angry about the prospect of downsizing. It can feel like a loss of independence, freedom, and identity. Addressing these concerns with empathy and understanding can help your loved one feel heard and respected.
Encourage them to share their concerns and listen attentively to their perspective before sharing yours. Approach the conversation as a collaborative effort rather than pushing an agenda.
Prioritize Safety
One of the essential reasons for downsizing is to improve your loved one's safety. If they are living in a large house with stairs and uneven surfaces, it can be a hazard, especially as they age. Downsizing to a smaller, more accessible space can reduce the risk of falls, improve mobility, and provide a better quality of life. Empathize with your loved one's desire for independence but prioritize safety above all else.
Offer Support
Downsizing is challenging, and your loved one may need your support. Offer your help with packing, decluttering, and transportation. Provide a sense of comfort and encourage them throughout the process. Let them know that you are there for them and that their feelings and concerns are valid.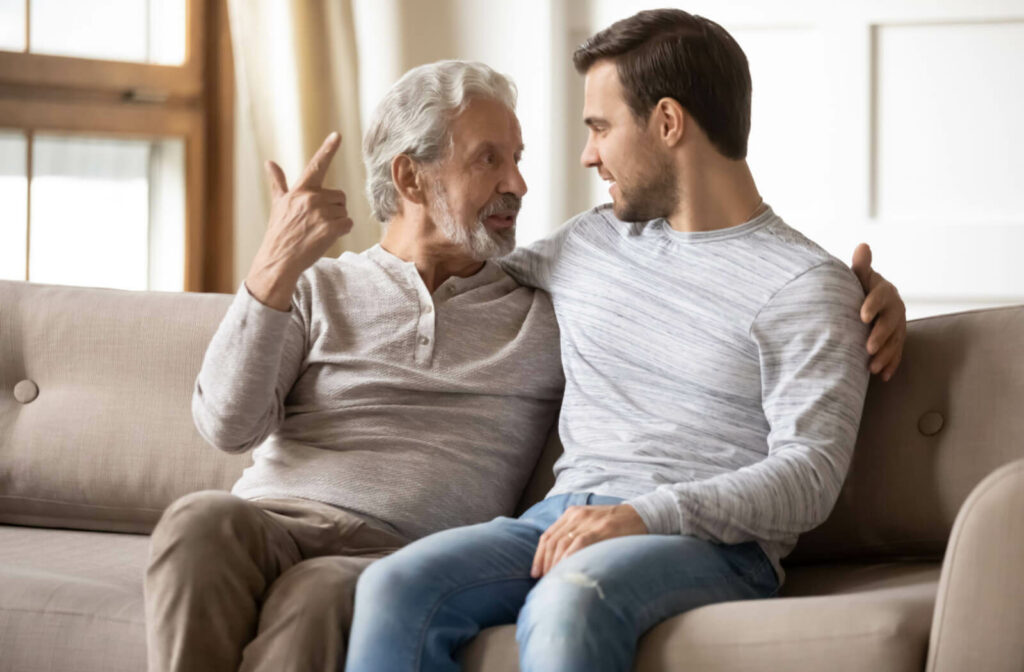 How to Downsize to Assisted Living
Understand the Space You're Downsizing To
As you prepare to downsize, one of the most important things to do is to understand the space you're moving into. Since assisted living floorplans come in different sizes and styles, it's essential to research the community you plan to move into and tour the space. Once you have an idea of the living space, you can start creating a list of what can and cannot fit. This will help you avoid bringing unnecessary items.
Start Early
It's always better to start downsizing as soon as possible. Often, the mere thought of downsizing can be overwhelming. But if you start early, you can tackle the task slowly and make more informed decisions. You can take your time to evaluate each item and decide whether it should be kept or let go. Plus, starting early can help alleviate stress later on.
Create a Plan
A detailed plan is essential when downsizing. After you've evaluated the living space, make a list of all the items that you and your loved one will need. This can include furniture, small appliances, and toiletries. You can then mark items your loved one plans to bring to their new home and those that will be left behind. The remaining items can be donated, sold, or given to relatives.
Get Family Involved
Downsizing can seem lonely, but it doesn't have to be. Get family and friends involved in the process. They can share memories about particular items and offer input on what should stay or go. Plus, having extra hands can help make the job go faster.
Consider Hiring Professionals
If downsizing is too challenging to handle on your own, consider hiring professionals to assist. Senior move managers and professional organizers can help with everything from sorting through belongings to packing and unpacking boxes at your loved one's new home. They can also guide you through the downsizing process and help relieve stress during a difficult time.
Downsize to a Vibrant Assisted Living Community
Downsizing for assisted living can feel overwhelming, but it doesn't have to be. Downsizing can be an emotional journey, but it's necessary for a happier and more comfortable living environment for your loved one.
With empathy, understanding, and patience, it can be a successful transition. Schedule a visit to Brooklyn Pointe Assisted Living to help your loved one begin a new chapter in life.