Caring for a loved one with dementia can be rewarding but also challenging. There are many things to consider, such as safety, comfort, and quality of life.
One common concern for caregivers is whether it's legal to leave a person with dementia alone. While it's not illegal, leaving a loved one with dementia alone can pose some health and safety risks.
Memory care in senior living communities can help support every aspect of a loved one's needs with dementia. Especially since dementia is a progressive disease, a customized approach can give a loved one a sense of warmth and belonging.
Understanding Dementia
Dementia is a general term for impaired cognitive function. Alzheimer's disease is the most common form of dementia that affects a loved one's ability to think, reason, and remember in its later stages.
It can also impact their behavior, personality, and communication skills. As the disease progresses, it can become increasingly difficult for a loved one with dementia to care for themselves and remain independent. This is why many people with dementia require some level of care and support from their loved ones or caregivers.
The Risks of Dementia
Many people with dementia can live alone in the early stages of the disease. However, it can also pose some risks.
A loved one with dementia may become disoriented, confused, or lost, even in familiar surroundings. Living alone may include the following risks:
Falls
Accidents
Injuries
Wandering
Loneliness or social isolation
Forget to take their medications
Malnutrition
Difficulty managing personal hygiene
Difficulty with household tasks
Leaving a Person with Dementia Alone
While it may not necessarily be illegal to leave a person with dementia alone, when cognitive function begins to decline or a loved one loses the ability to communicate, they may require 24-hour care, protection, and support.
Memory care can provide the following for a loved one with dementia:
24-hour emergency medical support
Organized activities
Housekeeping services
Restaurant-style dining
Occupational and physical therapy Care
Scheduled transportation services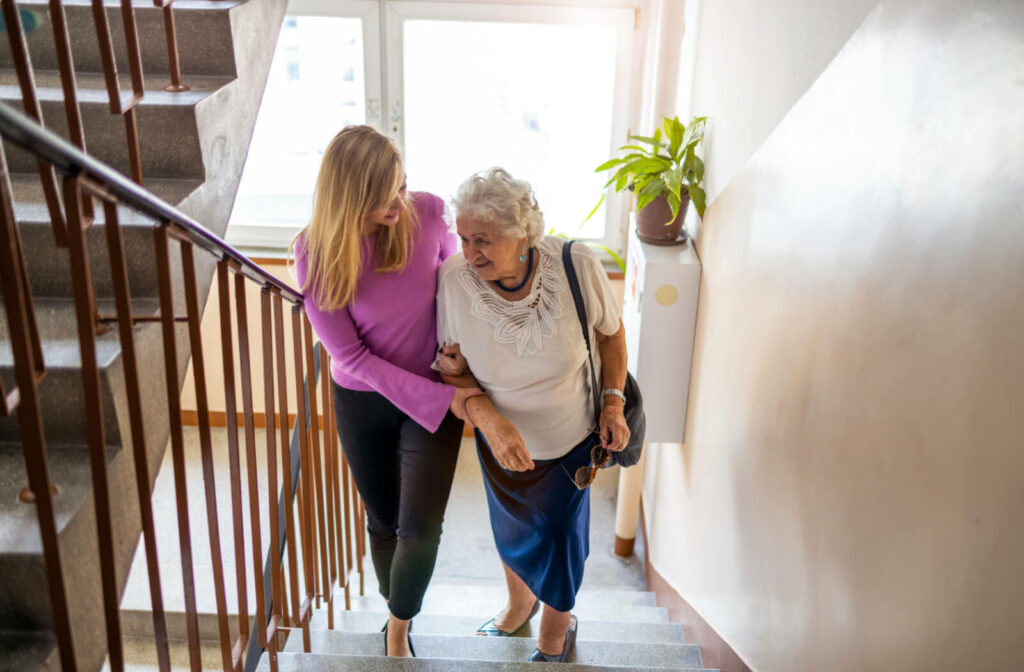 Keeping a Person with Dementia Safe
If you're a caregiver for a loved one with early-stage dementia, you can take these steps to help keep them safe and secure:
Use technology and safety devices: Safety devices and apps can help you keep track of your loved one's location, monitor their movements, and alert you if they wander or leave a designated area. Some examples include fall monitors, GPS trackers, motion sensors, door alarms, and emergency call buttons.
Create a safe and secure environment: You can make minor changes to a loved one's home, such as installing grab bars in the bathroom and other areas where they may need extra support or removing any hazards or obstacles, such as loose rugs, clutter, or furniture with sharp edges that could cause your loved one to trip or fall.
Establish a routine: A consistent daily routine can help your loved one feel more secure and reduce their risk of confusion or disorientation. These can include scheduled meals, medications, and other activities at the same time each day.
Make everyday tasks easier: You can help a loved one organize their day, such as writing to-do lists, appointment dates and times, setting up automated payment plans, and having their groceries delivered.
Get support: Caring for a loved one with dementia can be challenging and stressful. Don't hesitate to ask for help and support from family members, friends, or professional caregivers.
Prepare for the future: Thinking about health and finances early on can help when it's time to make decisions as dementia progresses. These can include preparing or updating a loved one's will, living will, healthcare power of attorney, and financial power of attorney.
Consider professional homecare or senior living communities when a loved one can no longer live alone.
Memory Care Support for Your Loved One
Many people with dementia live fulfilling lives at home. Family members can help a loved one with dementia live alone by taking the necessary steps to keep them safe and secure, such as using technology, creating a safe environment, establishing a routine, providing supervision, and getting support.
However, this can change depending on the stage of dementia. If you're looking for a memory care lifestyle for a loved one with dementia, schedule a tour with Brooklyn Pointe to learn about our community.